Like every first Friday of December:
We wish all Ghanaian farmers a very Happy Farmers´Day 2022!
For this festive event, we have a special 5 + 1 offer for all farmers in the Greater Accra Area, who come to buy Asase Gyefo premium organic fertilizer at our main pick-up point at Safisana Ghana Ltd. (Adjeikojo Santeo Rd, Tema) When you buy five bags of compost, you get one for free. The promotion is valid from next week Monday (5th of December) till next week Friday (December, 9th). The pick up point opens at 8.00 a.m. and closes at 5.00 a.m.  Click here fot more contact information. We hope to see you next week!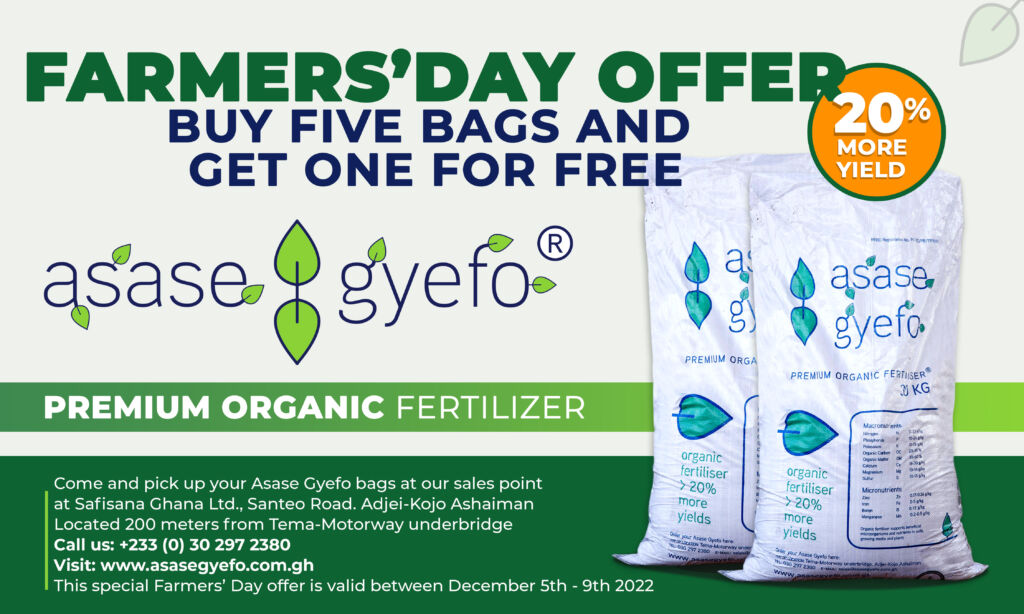 Why celebrating Farmers´ Day?
Farmers Day was instituted by the Ghana administration in 1985 to celebrate the flourishing growth of the farming industry after years of severe droughts in the early 1980s.
Especially in times like these, in which many farmers are struggling with rising costs and scarcity of resources, we recognize the hard work of all farmers and fishermen across the country.
Did you know?
The agricultural industry is the largest employer in the world.
Today, a single farmer, with the right set of equipment, can feed about 155 people with his produce.
Farmers worldwide would have to produce at least 70% more food by 2050 in order to feed the growing population.
The nomadic tribes in 10,000 B.C. started farming for the first time, beginning the First Agricultural Revolution.(Source: https://nationaltoday.com/ghana-farmers-day/)

see you next week!