Since the beginning of this season, Safisana and Farmerline are partnering to enable African farmers to increase yield and make more profit. The collaboration between Farmerline and Safisana comprises product trials, demonstration plots, farmer sensitization and training.
Farmerline is a fast-growing tech company based in Ghana with a mission to create lasting profits for farmers, offering a marketplace platform that combines digital tools, logistics, field agents and sales and distribution of farm resources. As a waste recycling company that produces nutrient-rich organic fertilizer, Safisana contributes to improving soil health, fertility and crop yields for farmers in Ghana.
"Farmerline has an excellent service platform, a large distribution network with over 400 agri-input dealers dispersed over the entire country, serving a customer base of over 123 K  smallholder farmers. So that is a huge opportunity to improve distribution and sales of our Asase Gyefo Premium Organic Fertilizer among Ghanaian farmers", Elikplim Asilevi, general manager at Safisana Ghana Ltd.
Safisana is a NGO operating in Ghana that has developed a circular business model for governments, utilities, and food processing industries, that combines faecal sludge and organic waste treatment with the production of renewable energy, nutrients, and water.
Empowering African Farmers Through Partnership
Over the last three months, the teams of Safisana and Farmerline together with some local farmer groups carried out a product trial at a demo plot at Kwadaso College of Agriculture in the Ashanti Region. Last week Safisana and Farmerline jointly organised a Farmer Field Day in the same location. Some 50 farmers joined the workshop session that focused on educating the farmers on the application of organic fertilizer and its benefits on soil health and yields. In the afternoon the farmers were guided to the demo plot nearby to see the effects of organic fertilizer on maize growth.
Advancing Ghana's Agriculture with Asase Gyefo
In the trial, three categories of fertilizers were applied on three different plots to compare the results on the production of maize: namely, Asase Gyefo Organic Fertilizer only, chemical fertilizer only, and Asase Gyefo plus chemical fertilizer. According to Safisana's senior agronomist Daniel Larkai the trial is showing that "the use of organic fertilizer does not only reduce the over-application of chemical fertilizers to the soil which makes it sterile, hence unproductive. It also shows that the use of Asase Gyefo in crop production is a cost-effective and sustainable source for crop nutritional provision."
Anthony Aliebe, Farmerline Group Regional Sales Manager, West Africa is positive about the outcomes: "Besides the improvement of soil health that ensures long-term land use by smallholders, it is refreshing to see organic fertilizer performance on maize comparable to chemical fertilizer. This is a substantial economic relief to the pockets of the smallholder farmer. This means that farmers now have alternatives to the ever-soaring price of chemical fertilizer, which also adversely affects the soil in the long term. This indicates that farmers will increase their yield and reduce their crop budget. This breakthrough will help farmers create lasting profit in their farming business while preserving our environment."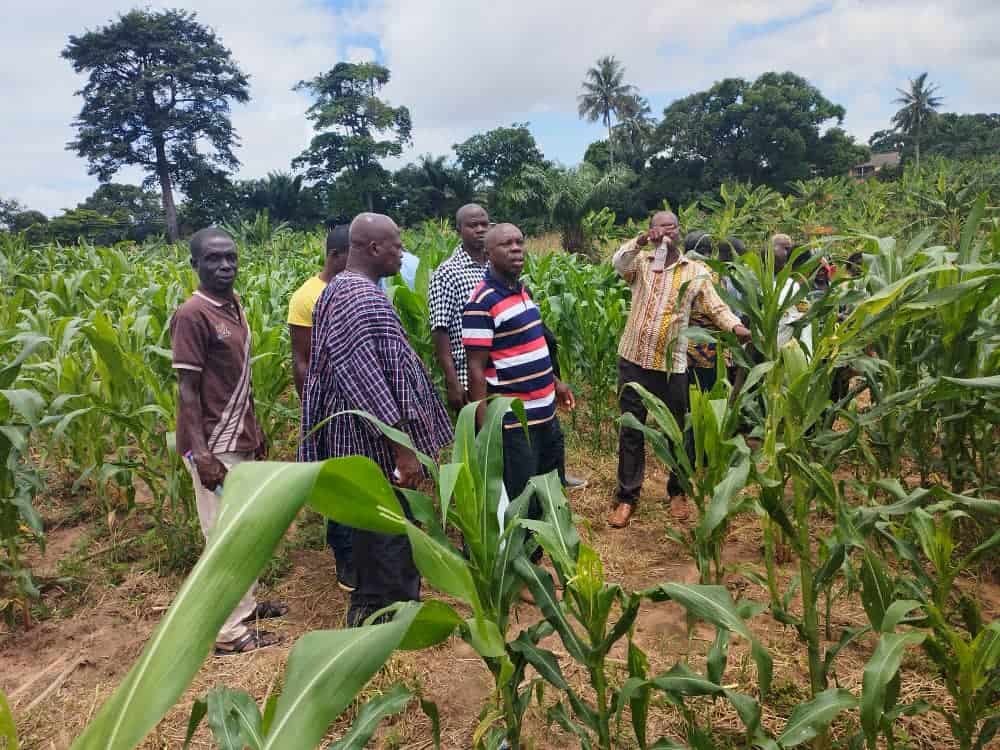 Paving the Way for Sustainable Agriculture
Farmerline Agronomist Lewis Adjei Banin: "It is amazing to observe variations in the crop's ecosystem on an area of less than 3 acres. We expect a good yield from soil amendments that have a blended approach to improving soil and crop health. The biodiversity within the space of time has changed, showing the interaction of the maize crop and cowpea with beneficial pollinators and predators on plots that received less amount of organic fertilizers as opposed to plots that received more inorganic fertilizers and exhibited more damages and pest incidents."
Safisana agronomist Daniel Larkai adds: "During the trial, we experienced an outbreak of armyworm affecting the maize, however, you could see the differences between the plots. The maize grown with chemical fertilizer only was highly damaged, Asase Gyefo plus chemical fertilizer was moderately damaged, and lower damage was noticed on maize grown with Asase Gyefo only. This indicates that with the use of Asase Gyefo, the continuous application of toxic chemicals is less needed to control pests and diseases, reducing escalations of production cost and negative effects of these chemicals on human health and the environment."
Besides product trials, demonstration plots, farmer sensitization and training, the collaboration between Farmerline and Safisana comprises marketing and promotion. "Farmerline has developed a customer service and communication platform that uses voice message dissemination. The Farmerline team  has developed a nice audio campaign around the use and benefits of organic fertilizer such as our Asase Gyefo that will be disseminated among their customers in the coming months", Elikplim Asilevi says.

For more insight on the impact of fertilizers on the environment, check out The Impact of Fertilizers on the Environment: Inorganic vs. Organic' available at Farmerline's website.
To learn more about innovation in the field, read Innovative Credit Scoring Tool Helps Ghanaian Farmers Move Forward by Rabobank Foundation.